Since no one else will say so, I will.
I'm a pretty smart guy.
Two degrees from Harvard, living a pretty good life, only working if I want to and having a Sugar Momma go off to work 4 days a week.
Not bad. Kids are out of the house, dog is low maintenance and the coffee is fresh.
But as hard as I've tried, I really don't understand currencies. And let me throw in bonds, too.
All of this talk about the dollar, interest rates, currency exchanges just leave me dazed.
Forget about concepts like the Japanese Yen Carry Trade.
And yet, all sorts of morons are extolling their insights into the FOREX and willing to sell you a piece of their underdeveloped cortical lobes.
But at least I do know that the sanctity of the value of the US Dollar is a heated area of discussion.
In fact, yesterday, Art Cashin, while on CNBC, referred to Tim Geithner's statement regarding his defense of the value of the dollar as being a "Pinocchio statement".
Then there's the perennial Ron Paul crusade. Gold, dollar, consipracy. Whatever. Today he used the word "collusion".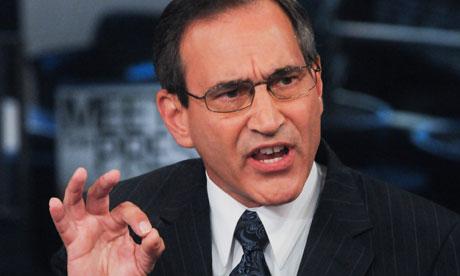 But this morning, just as I thought that I was at least beginning to understand the sides, comes RIck Santelli to upend my tenuous comfort zone.
As he was very patiently and uncharacteristically listening to the question set-up, he started his response by calling Chairman Bernanke an "honorable man".
The cynical me would have interpreted that somewhat akin to starting a response with the preface "With all due respect…"
But the rant never came off.
He actually did not diss Bernanke.He did not come to bury him.In fact, hestated that he believed that Bernake was a good American and had the interest's of the country heart.
I ascribe this to the fallout from Obama's full birth certificate being released.
Who knew that so much venom could be controlled by a single piece of paper?
Maybe the next thing to occur will be Trump changing his hair style.
But getting back to my ignorance, and mind you, I've always been very good with numbers and math theory, even having read Irving Adler's book on mathematical theory in 9th grade, yet still the currency thing escapes me.
Yes, I understand the inverse nature of all things interest rate related. I know to think backwards when it's called for. I even know not to end a sentence with a preposition.
I understand that as the Euro strengthens, the dollar may weaken (leaving out the further complication of the Swiss Franc).
But I like the idea of being able to pare down our deficit by taking advantage of a weak dollar. Isn't that also good for our exports? Or is that something that needs to be considered as the inverse of the inverse?
But again, Santelli honoring Bernanke?
That really throws things into a tailspin.
I've checked my Harvard degrees. They are irrevocable, not like those honorary pieces on faux parchment.
My best explanation, until proven otherwise, is that this was just another dream.
The idea of Santelli being respectful of Ben Bernanke is more ludicrous than KrispyKreme sending Herb Greenberg a box of free doughnuts daily, in thanks for his thoughtful and insightful analyses of their business practices and accounting.
It could happen.
NEWEST FOOTER2
Check out Recent PortfolioTransactions