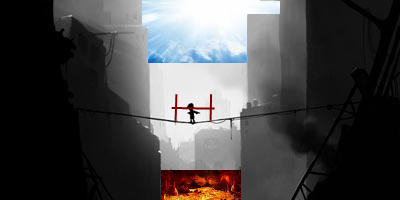 Depending upon what kind of outlook you have in life, the word "limbo" can conjure up two very different pictures.
For some it can represent a theologically defined place of temporary internment for those sinners for whom redemption was still possible.
In simple terms it may be thought of as a place between the punishing heat and torment of hell below and the divineness and comfort of heaven above.
Others may just see an image reminding them of a fun filled Caribbean night watching a limber individual dancing underneath and maybe dangerously close to a flaming bar that just keeps getting set lower and lower.
Both definitions of "limbo" require some significant balancing to get it just right.
For example, you don't get entrance into the theologically defined "Limbo" if the preponderance of your sins are so grievous that you can't find yourself having died in "the friendship of God." Instead of hanging around and waiting for redemption, you get a one way ticket straight to the bottom floor.
It may take a certain balance of the quantity and quality of both the good and the bad acts that one has committed during their mortal period to determine whether they can ever have a chance to move forward and upward to approach the pearly gates of heaven.
Continue reading on Seeking Alpha